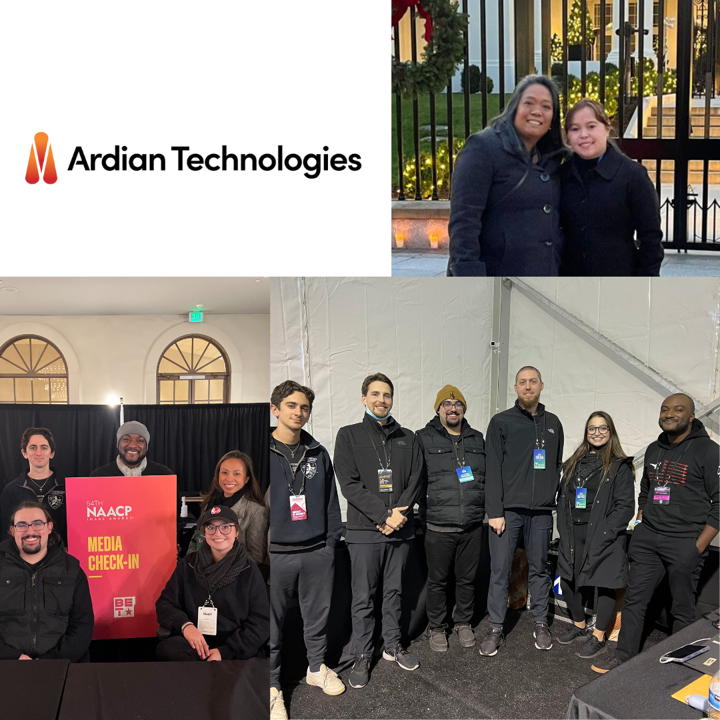 Enployable, a company dedicated to finding the right hires for long-term placement, collaborated with Ardian, a company dedicated to providing security for people, data, and spaces, in a hiring process to create a strong team. During Women's History Month, it is especially inspiring to highlight a successful collaboration between two female entrepreneurs.
The pandemic has forever changed the way we work and the way we think about work. As companies navigate this new workplace while also juggling the challenges of a struggling economy, the Great Resignation, and "quiet quitting", it is more important than ever to be able to identify important factors that drive a company's growth, namely the alignment between employers and employees with regard to mindset, mission, and values among team members. In that vein, we are happy to present a success story about Ardian Technologies of the Ardian Group and their recent hire.
Ardian Group provides security for people, data, and spaces. Ardian has supported large events and clients such as Presidential Inaugurations at the White House; the Academy Awards; National Football League and National Basketball Association games; major television networks such as BET, CNN, and NBC; and federal agencies including the U.S. Congress, State Department, and the Department of Homeland Security. 
Ardian is a well-established company with a long and successful track record that operates with the innovation and nimbleness of a startup. Their latest endeavor in digital security and identity management is nothing short of an effort to change the landscape of the event security space. To accomplish this mission, Ardian needs to assemble the right kind of team: employees who are experienced with traditional corporate structures but willing to embrace the uncertainty of a startup-type environment, while contributing to Ardian's corporate culture
Having utilized traditional recruiting channels and practices with mixed success in the past, Ardian's founder and CEO, Maria Shelton, turned to Enployable to staff this new initiative. Enployable transforms recruiting to matchmaking, helping employers find job candidates who are a good fit and who are likely to be engaged in their jobs for the long term, while saving time and money. Enployable's proprietary AI-based algorithms focus on factors which matter - such as on mission, culture and work styles - factors that go beyond job descriptions and are difficult to ascertain from a resume or even from multiple interviews. Enployable's founder and CEO, Laura Truncellito, highlights the company's mission as empowering innovators and game changers to build tomorrow's workplace centered around engagement, growth, and happiness.
Maria appreciates Enployable's matchmaking approach to hiring: "It's like any relationship: you've got to find the people that fit with you. A team with a positive mindset, a growth mindset, can help with a company's success, and it's so important to be in tune with that." Ardian's goal is for its employees to grow and learn in their roles while also shaping the company's culture - this is what Maria calls "the true measure of success" for an employee.
Enployable launched the hiring process for Ardian to select a Director of Sales to lead this new effort. After Enployable's AI engine identified and evaluated more than six hundred of candidates to find those who were the best fit, a number of candidates were targeted for interviews, and eventually Jim Walsh was selected for the role. Ardian is highly satisfied with their new hire. Maria sums it up: "Jim gets it beyond the skill set required. He can look at Ardian's present and take it into the future, and the only way to do that is with a solid team. Going into this new year, we've got a strong mindset and a strong team to start moving in this direction, and it has a lot to do with Enployable's efforts. It really has been a huge difference!" 
Jim has been pleased with his new role. He notes, "It's been a great fit. It's been a really good experience so far - putting a lot of processes and foundations in place. The team is great!" Jim had previously encountered the shortcomings of traditional hiring processes from the perspective of a job candidate. As he observed, it's difficult to ensure that a candidate's resume includes the key words that the hiring manager (or their resume screening software, which is generally imperfect) is looking for. The result, Jim notes, is that "Employers are missing out on great candidates, and employees are missing out on great opportunities that they are a fit for." Enployable's two-way matching addresses this pain point that Jim and so many others have experienced, enabling employers and job candidates to find a better fit with one another.
For her part, Laura is thrilled that Enployable has been able to help people and companies grow in a positive direction, in a way that is missing from the traditional hiring process. She recalls the story of the Oakland A's portrayed in the movie Moneyball. When developing a novel approach to overcome the shortcomings of traditional processes, it can be challenging to swim against the stream. But Laura sees the potential for things to be so much better and is beginning to see positive results. To continue the analogy, Laura suggests that "a company is likes a sports team - putting the right people together in the right environment is the key."
During Women's History Month, it is especially inspiring to highlight a successful collaboration between two female entrepreneurs. Enployable's success is rooted in the success of the employers and employees who they match together. "We're making an impact that is difficult to see, but you know it's there, and it is projected in workplace productivity almost instantly. Helping a company to build a great team and move forward with their goals is just the best." Ardian's partnership with Enployable to form the right team has helped them play a leading role in a new era of the data security landscape. As Maria said, "It's all about the growth mindset, and Ardian is embracing the future!"